Op 11 mei speel ik met collegaatjes Fons, Jetteke en Tessa de voorstelling Fijnkunst in het Pesthuys in Maastricht. Deze avond staat natuurlijk al een tijdje in de agenda en ik leef er dan ook echt naartoe. Het leek me leuk om eens te beschrijven hoe ik die periode tot aan een voorstelling ervaar, en wel vanuit de drie perspectieven van 'Hoofd', 'Lichaam' en 'Hart'.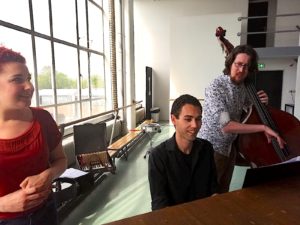 Laten we beginnen bij het begin. Het hoofd is zeker niet de belangrijkste factor, maar bij mij vaak wel degene die als eerste sterk naar voren komt. Van nature ben ik een denker en schiet ik makkelijk in de helikopterview. Het naar een voorstelling toe leven begint met een periode waarin ik vooral hoofdelijk bezig ben met alles behalve het spelen zelf. Datum prikken, theater regelen, promotieteksten schrijven, dat soort dingen. Mensen aanschrijven en uitnodigen om te komen kijken. Balans proberen te vinden tussen wel genoeg promotie maken en mensen niet overvoeren met info. Actief bezig blijven met promoten en tegelijkertijd erop vertrouwen dat het wel goed komt. En natuurlijk dealen met mijn eigen opjagende gedachten, zoals "Als we de zaal maar vol krijgen…" 
Dan komt er een punt waarop de aandacht vooral naar het artistieke stukje mag gaan. Mijn favoriete valkuil zodra ik voorbij dat punt ga: lekker vanuit het hoofd blijven werken… 🙂
Dat kan ook, want er moet veel gebeuren met het koppie erbij. Nieuwe teksten schrijven, liedjes componeren en vervolgens alle woorden en noten uit het hoofd leren. Dit is natuurlijk een hele belangrijke fase waarin een deel van de voorstelling echt vorm krijgt. Ik heb dan nog geen noot gespeeld en toch heb ik het gevoel (nee: het idee) dat ik al super actief bezig ben met theater. Je zou bijna gaan DENKEN dat je alleen je hoofd nodig hebt voor het spelen van een voorstelling…
Vervolgens ga ik thuis oefenen en is mijn hoofd zo aardig om me voldoende 'tips' te geven. "Denk aan je articulatie". "Waar is je ademsteun?". "Die 'e' moet je in dat C/E- akkoord niet nog een keer spelen want anders klinkt het niet mooi, dat weet je toch, dat heb je van Fons geleerd…". 
Deze keer merkte ik het toen ik voor het eerst echt oefende achter de piano. Al na een kwartier had ik last van gespannen handen en armen. Dan maar even alleen zingen. "Goh, ik haal die hoge noot wel erg moeilijk zeg, dat ging vroeger toch veel makkelijker… misschien als ik het eens meer zo probeer… niet echt hè… beter op mijn houding letten, nog eens proberen… oeps, zo zeker niet!". Je kunt er vervolgens de klok op gelijk zetten of ik ga dingen denken als "je moet meer lessen nemen, je speelt te weinig, je bent ook helemaal geen speler/zanger…"
JOEHOE! Hallo Innerlijke Criticus! Jij ook hier?  
Gelukkig ben ik me tegenwoordig steeds iets eerder ervan bewust dat ik mezelf met deze gedachten loop te saboteren en kan ik er even aandacht aan geven en voor zorgen. Iets in mij maakt het belangrijk om het goed te doen en vindt het spannend als dat even niet lijkt te lukken.  Hoe zit dat? Na even 'intunen' kom ik er (weer) een beetje achter. Het is de eerste avondvullende voorstelling waarin ik meespeel sinds mijn burn-out. Iets in mij vindt het belangrijk om 'er weer bij te horen', om te laten zien dat ik er nog ben en als performer nog meetel. Zeker omdat ik door het jaar heen vooral veel lesgeef, train en regisseer – dan sluipt de "En nu moet je laten zien dat je het zelf kan" er ook wel in.
Ik besluit bewuster te luisteren naar mijn lichaam. Adem in, adem uit. Even al het technische loslaten en gewoon werken met wat er is. Even zingen met de spanning (in plaats van ervan weg willen), luisteren naar de klank en die laten resoneren in mijn lijf. Het niet te goed willen doen, maar gewoon even alles laten klinken. In plaats van te werken om de toon naar buiten te krijgen, de klank bij mezelf houden. 
En dan zak ik in mijn lijf… "pfff, hè hè… oh ja, zo voelt het!". En dan begint alles te stromen, opent zich het universum en blijf ik tot 11 mei heerlijk in dat ontspannen gevoel zitten. Haha. Nee, dat zou mooi zijn. Wel is het voor mij dan een heel fijne basis waar ik steeds weer naar terug mag. 
En dat lukte steeds een beetje vaker! Hierdoor kreeg ik mijn vertrouwen weer gauw terug en kon ik ook weer focussen op het hart en wat ik zo leuk vind aan het spelen en het maken van een voorstelling. Een greep uit leuke momenten: bij de eerste repetitie met Fons kon ik me nauwelijks focussen op het zingen toen hij zijn tweede stem meezong bij het lied, zo mooi klonk het! En bij onze repetitie samen met Tessa en Jetteke was het even zwoegen op de meerstemmige zang, maar als het dan lukt om vierstemmig te zingen is dat echt heel tof! Ook bleek ieders materiaal heel mooi aan te sluiten op dat van de anderen en kwamen we heel organisch tot een mooie volgorde van de voorstelling. En konden we elkaar ook een beetje helpen om het nog beter en muzikaler te maken! 
Tot slot mijn grote fun-fact van deze voorstelling: Fons bleek bedacht te hebben dat ik bij een van zijn liedjes accordeon zou spelen, dus of ik dat ding van 8 kilo even mee naar huis wilde nemen om te oefenen. Kleine aantekening: ik had voor dat moment dus nog nooit accordeon gespeeld.  Leuke uitdaging dus! We gaan 11 mei horen of het me is gelukt… en zelfs als ik mijn hoofd er nog even over moet breken, mag ik ook spelen vanuit het lichaam en vanuit heel mijn hart! 
Met hartelijke, lijfelijke en hoofdelijke theatergroet, 
Jeroen 
'Fijnkunst' speelt op 11 mei 2019 om 20.00u in het Pesthuys Podium in Maastricht. Kaarten kosten €10,- en zijn nog te reserveren via www.pesthuyspodium.nl.